Our music ministry offers many different types and styles of music for all ages and culture to praise God. At Community Congregational Church our music ministry performs several special events throughout the year including a variety show and Easter/Christmas Cantatas. The music ministry also includes our Chancel Choir directed by James Easley. The Chancel Choir performs during the worship service and leads the congregation in song twice a week; Thursdays at 7:00PM in the Choir Room and Sundays at 11:30AM, also in the Choir Room. If you are interested in joining the Chancel Choir contact James Easley.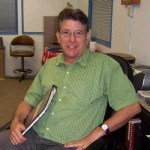 James Easley, Chancel Choir Director
James in a graduate of Southwestern College and Point Loma Nazarene College with a Bachelor of Arts degree in Music Education and teaches music at Tiffany Elementary School in Chula Vista, California. James has skills playing the bass, piano, guitar, all keyboards, violin, percussion, and is a baritone soloist in several area singing groups. Prior to becoming the Choir Director James served as a soloist and section leader since 1989 in the Community Congregational Church Chancel Choir.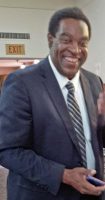 Lionel Jasmin, Accompanist/Musician
Lionel Jasmin is our accompanist/musician and does and excellent job playing and singing for our worship services, weddings, and memorial services.