Our commitment is to children. Provide an early childhood program which is a safe and nurturing environment that will promote the physical, social, emotional and cognitive development of the whole child. We are open to all children regardless of race, religion, or national origin. We are licensed by the State Department of Social Welfare – Community Care Licensing. Our goals are to respect each child for the unique individual he/she is. To provide each child with unconditional love, understanding, acceptance and to always provide developmentally appropriate curriculum. We assist in understanding their child's growth and development. We provide and encourage social development through experiences of sharing, taking turns and interacting with other children in the group. We provide an atmosphere that will foster the understanding and acceptance of people from various ethnic and cultural backgrounds. We provide teachers who will be facilitators in preparing an environment which will offer stimulating, challenging materials and activities for the children. We allow children to learn through play. We accept children ages 2 through 5 years of age.
Kim Appleget, Preschool Director
Kim is licensed by the State of California. She has 20 years of experience and has directed our pres-school for over 10 years.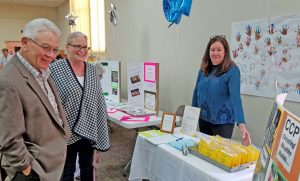 Calendar and Hours of Operation
Community Congregational Church Preschool is open year round . We observe the same holidays and vacation periods as the Chula Vista Elementary School District. We also offer an optional Summer Fun Program during the month of July.
Hours of Operation
Mon-Fri 7:30am-5:00pm
7:30-9:00AM – Optional Morning Care
9:00-12:00 Noon – Regular Enrichment Program
12:00-1:00PM – Optional Lunch Hour
1:00-4:00PM – Afternoon Program
4:00-5:00PM – After School Care
Documents
Office Phone: (619) 420-2046
Email: ccpkappleget@gmail.com