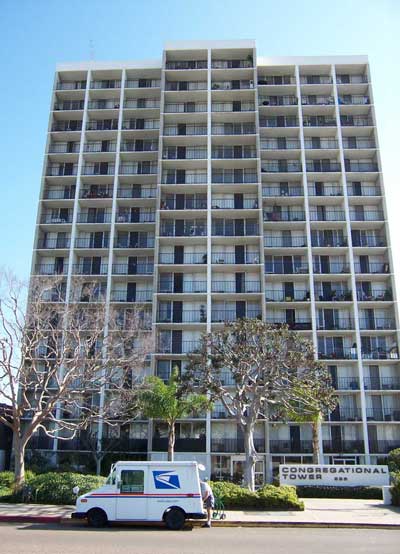 It was brought to the attention of the members at the annual meeting in 1961 by Ernest Weber, that Westy's Lumber Company property, just west of the church, was for sale. Consideration of this information was to culminate, in 1968, with the church obtaining an option to buy this land. It later provided the incentive to build the apartment complex for senior citizens, which stands today as a landmark – Congregational Tower.
In 1968 a committee was appointed, led by Paul Miller, as chairman, and Ralph Paxton, Jr., co-chairman. They made plans to secure an option for purchase of the property and present a recommendation to the congregation. Other members of the committee were: George F. Cornell, Robert E. Gans, Woody Grindle, Dale Horton, Milton McGill, Kermit Maynard, James Nolfi, John Morgan and Frank Whittington.
The church membership voted to proceed with the building plans at a special meeting called on June 22, 1969. By 1970 the Board of Trustees had filed an application for an F.H.A. loan, and received a project number. Groundbreaking ceremonies were held on Sunday, June 25, 1972, with representatives of the city, church officials, architects and consultants, as well as then Senior Minister, the Rev. Dr. Sorensen and members of the Board of Directors taking part.
Construction was begun July 5, 1972, and the building was dedicated September 16, 1973. Tenants began moving into the 186-unit, 16-story building early August of 1973. The management firm of Falkenberg and Associates of Pasadena was hired to assume financial management responsibility of the building.
The facility is subsidized under the Federal Section 8 or Section 236 program. It is financed through the US Department of Housing and Urban Development. To qualify for residency, applicants must be at least 62 years of age, meet the tenant selection plan criteria, annual gross income must not exceed $38,650.00 for one person or $44,150.00 for two persons. Federal rental assistance is restricted to US citizens or nationals and non-citizens who have eligible immigration status as determined by HUD.  To qualify for the waiting list, you must obtain an application at the building office: 288 F Street, Chula Vista, CA 91910, Monday-Friday 10:00AM-12 Noon or 2:00-5:00PM.
In 2013, the Community Congregational Development Corporation (CCDC) sold the Congregational Tower to Retirement Housing Foundation (RHF) , a senior housing organization founded by pastors of the United Church of Christ.  They continue in partnership and as a mission of the church.